A Memorable Design that Checks all the Boxes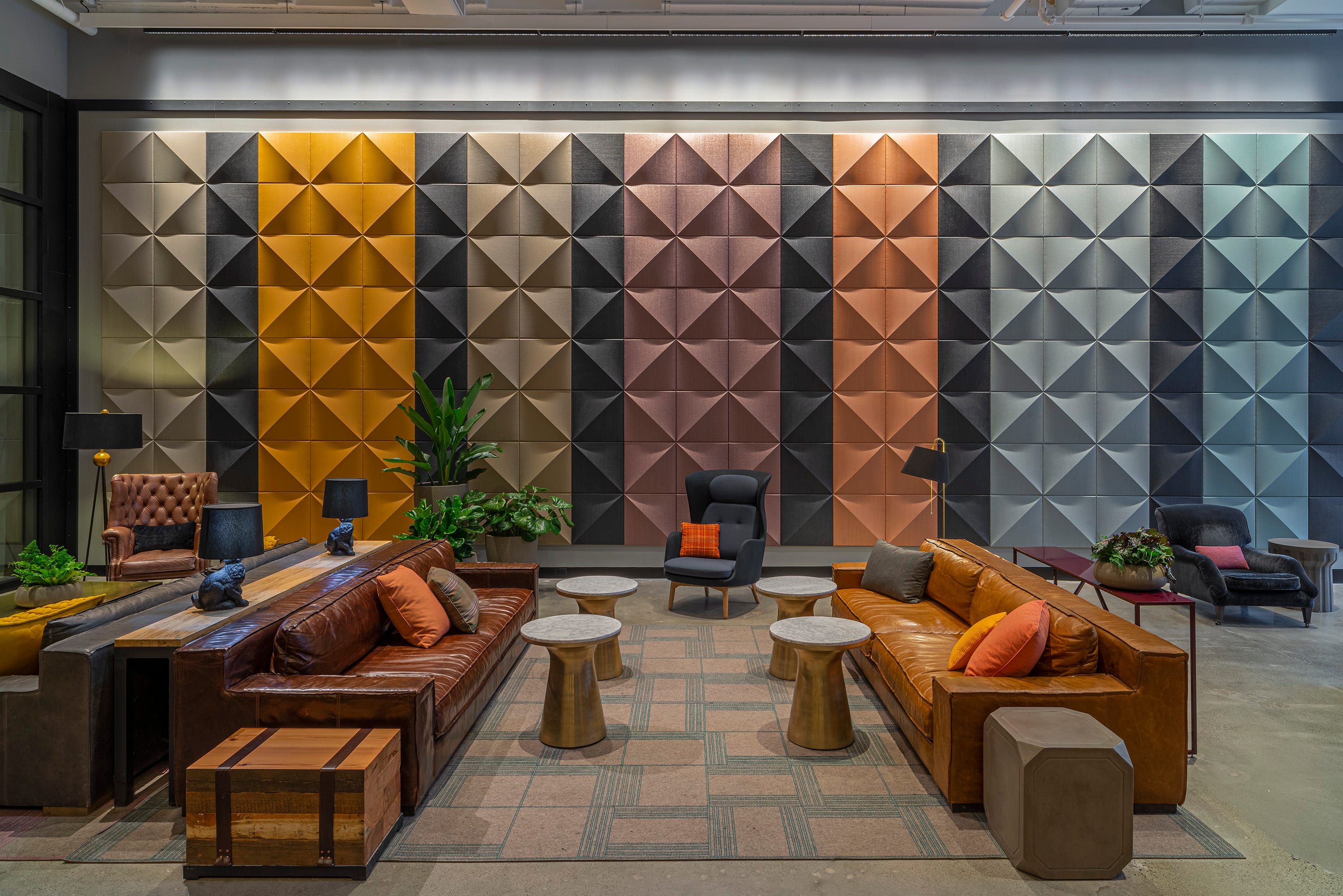 Designer: Elkus Manfredi Architects
Location: One Broadway Lobby: Kendall Square, Cambridge, MA
Product & End Use: Xorel Artform Square 3D | Acoustical Panels
Market: Workplace
"The flexibility of Xorel Artform allowed us to create a custom looking solution that looks great and gave us the acoustic properties we needed. The wide range of colors, durability, and sustainability of the product checked all the boxes."-Rachel Winokur, Senior Designer, Elkus Manfredi Architects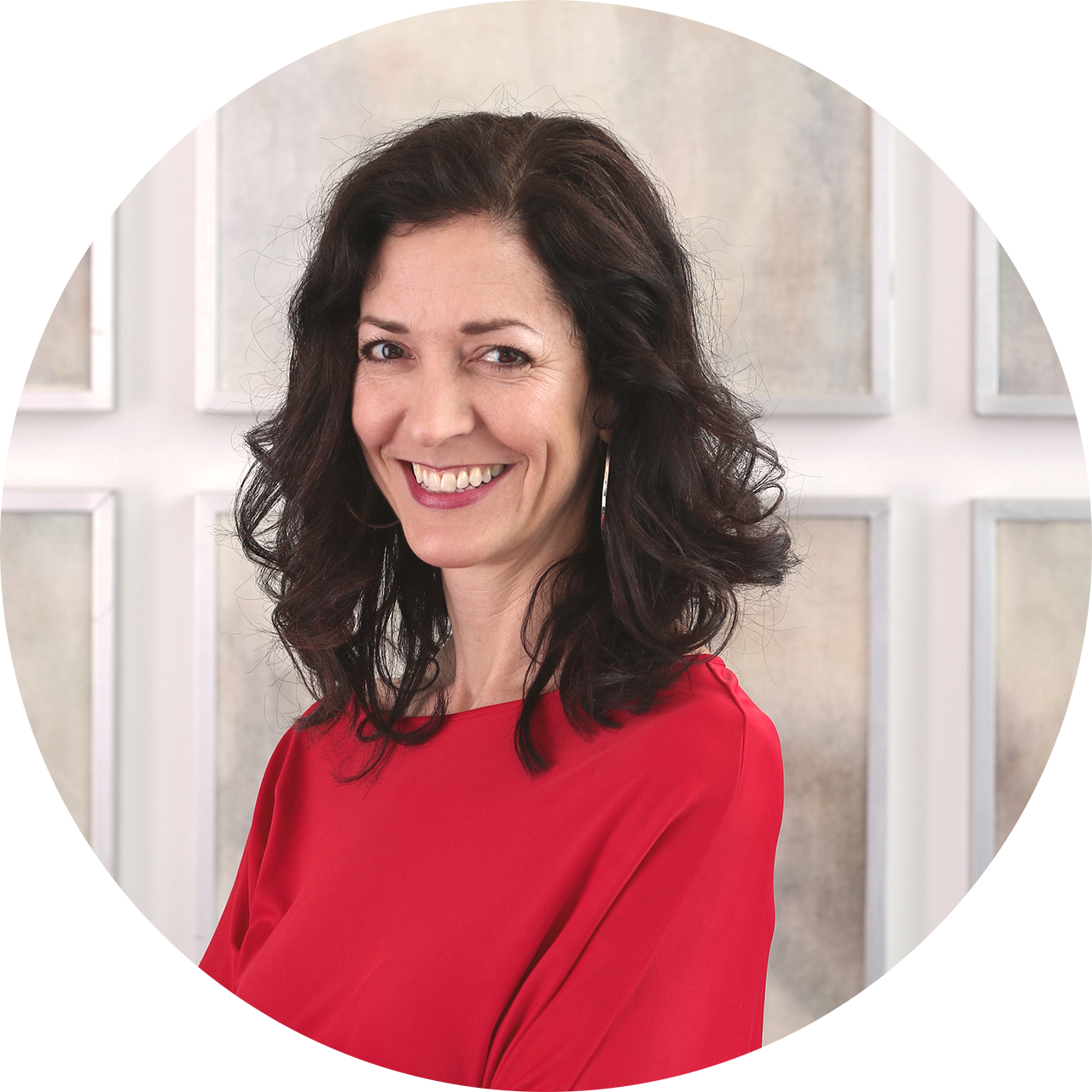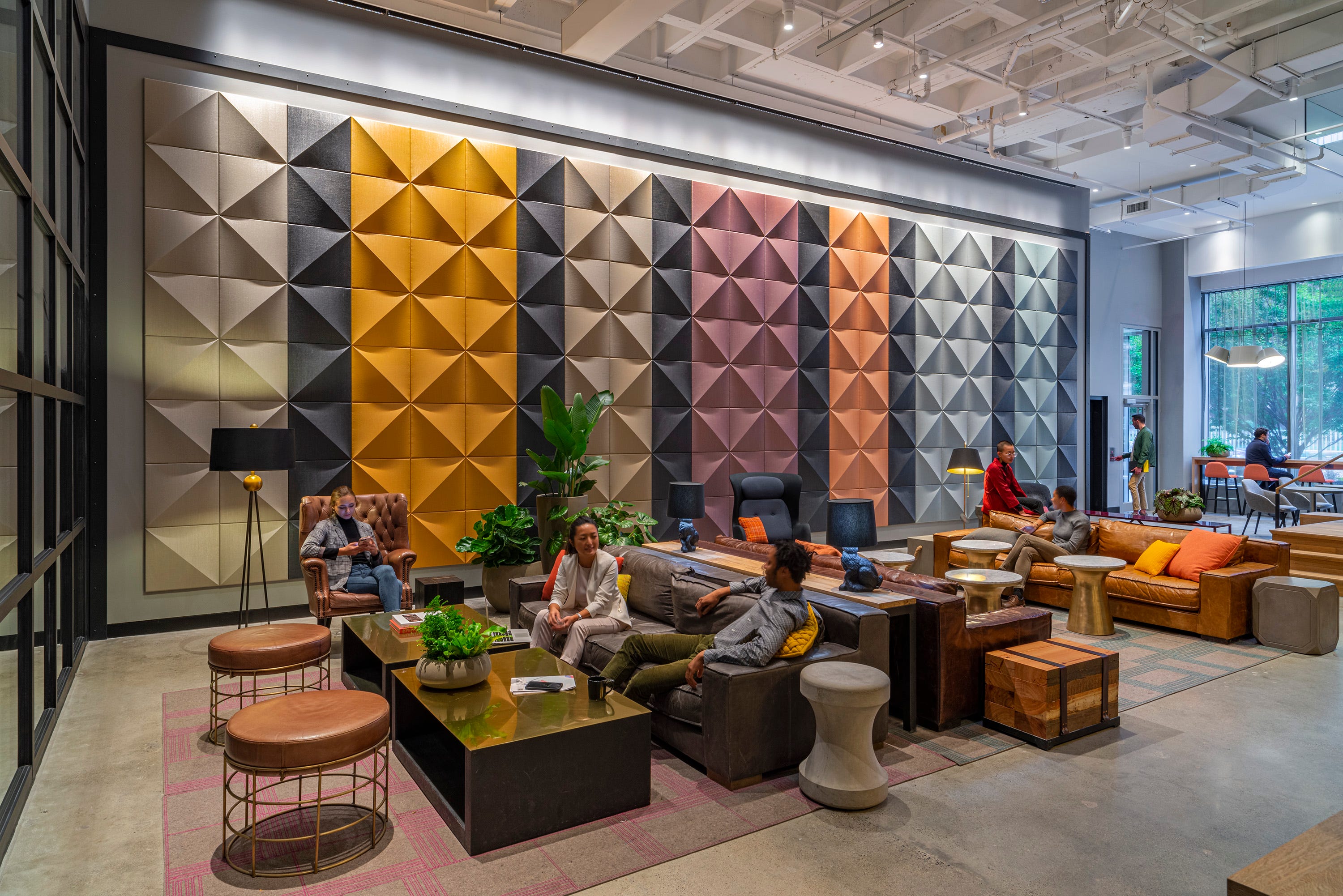 Design Challenge
Improve acoustics on a feature wall while creating a memorable statement in a space designed to transform and encourage tenants and the public to connect, collaborate and recharge.
Design Solution
Xorel Artform provides a welcoming, sculptural, yet unexpected tactile character to the space while also meeting key performance criteria related to acoustics, durability and cleanability.
Rachel Winokur, Sr. Designer at Elkus Manfredi Architects worked alongside MIT Investment Management Company to transform the lobby of the One Broadway office tower into a vibrant and welcoming space for tenants including the Cambridge Innovation Center (CIC) and to the public to connect, collaborate and recharge.
The 4,500-sf open space was segmented into various zones through the use of materials, lighting and furniture. Honoring the Brutalist style of the building, Elkus Manfredi Architects maintained the concrete floors and waffle ceilings while adding warmth with materials and texture to create a comfortable and welcoming environment.
Having learned about Xorel Artform, Carnegie's acoustic panel system that uses Xorel as the textile finish, the Interior Design team was intrigued. "We have Xorel in our conference rooms as wallcovering so we were very confident that we could speak first-hand about the ease of maintenance and durability which was important to the client." according to Sr. Interior Designer, Rachel Winokur.
Knowing that sound absorption was a key goal for this wall in particular, Elkus Manfredi Architects worked with acoustic consultant, Cavanaugh Tocci Associates who calculated the specific level of sound absorption required to meet their acoustic goal. Xorel Artform is offered in various substrates, however the Quiet-Core option with an NRC of .7 easily met this criteria.
The selection of the Square 3D shape compliments the ceiling grid. "It was easy to work with and while a single square on its own wasn't that exciting, putting them together in this massive installation is where the magic happened."
Next it was time to consider the color palette. Xorel Artform is offered in over 350 colors, texture and patterns which offered a great deal of options for experimenting "There were so many colors, we didn't find ourselves wishing for something that was missing. It was more about the challenge of editing down." The black Xorel was chosen to reference the mullions and trim of the building and other colors were pulled from the rugs, banquette fabrics and fine art featured in the space. "[Compositionally], we were going for vertical bands of colors that created a unique rhythm leading your eyes across the wall that weren't too matchy or symmetrical. It was great to have so many color options to work with to get just the right palette."
"Carnegie even provided us with mockup yardage which allowed us to play with the order of the colors we had selected until the composition was just right."
Once the palette and composition had been finalized, the Interior Design team tapped into Design Ally, Carnegie's complimentary service for layouts and renderings to visualize their final design.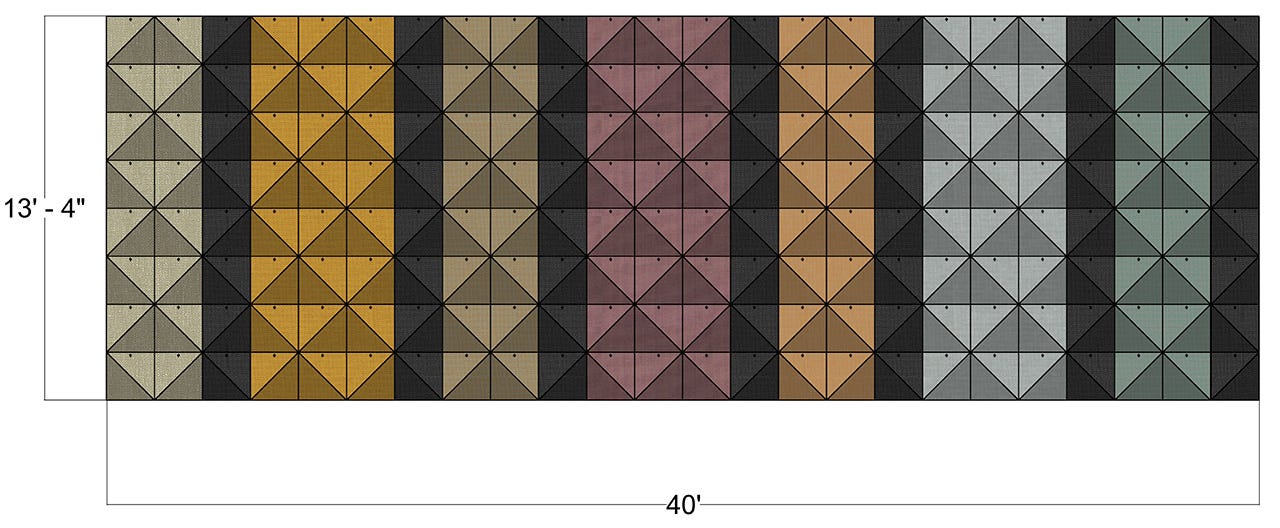 End Result
Rachel shared, "Everyone is so happy with how it turned out. From the camera's view it looks solid, but when you see [the Xorel Artform panels] up close, there is a whole other layer of texture and light reflection which is a nice surprise. Overall the flexibility of Xorel Artform allowed us to create a custom looking solution that looks great and gave us the acoustic properties we needed. The wide range of colors, durability, and sustainability of the product checked all the boxes."