"Clean and Serene" Wallcovering Solutions for Minute Suites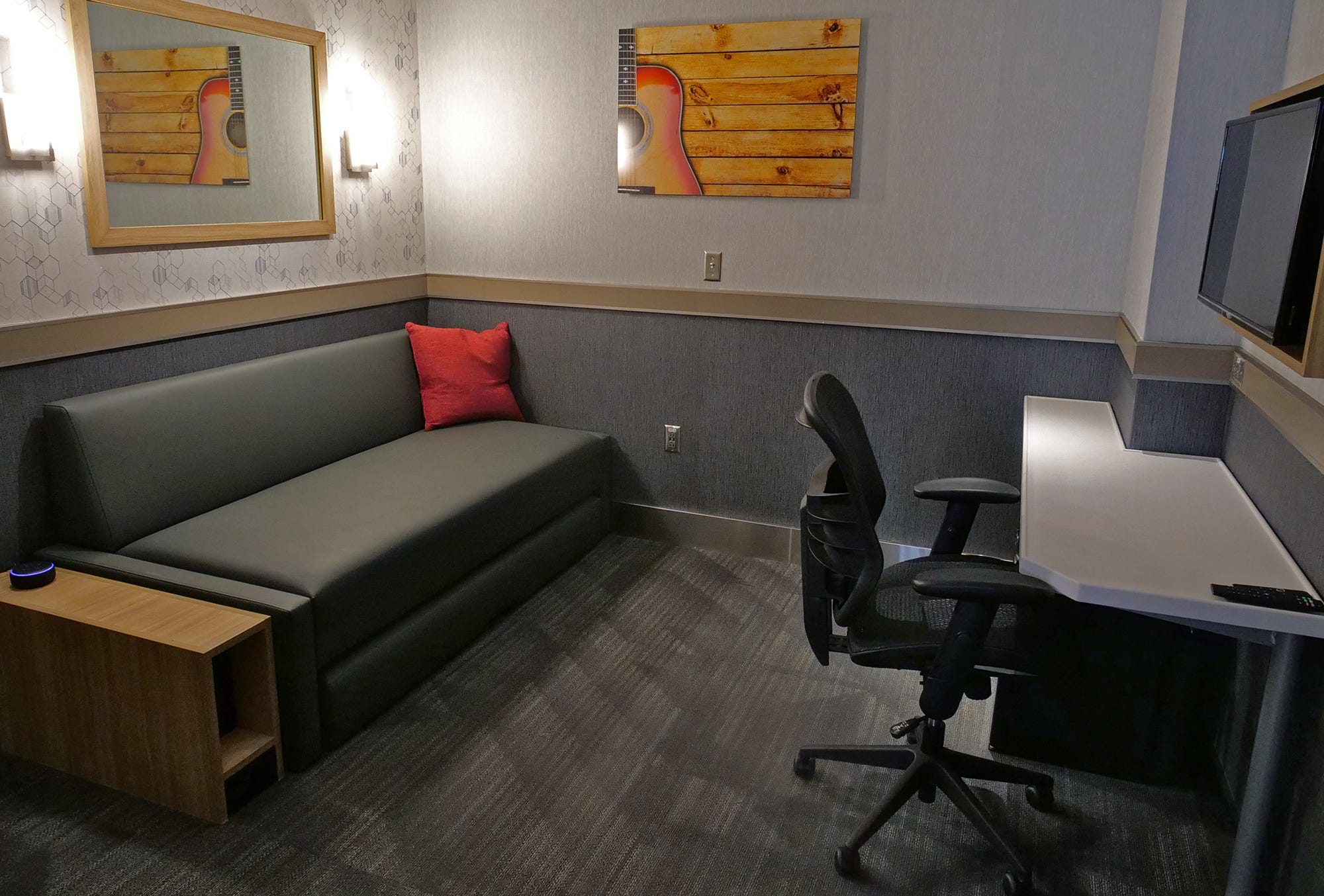 Designer: Sonder Architects, Nathaniel R. Orr, AIA, NCARB Project Architect | Principal
Client: Minute Suites, Nashville International Airport
Product & End Use: Xorel Deco Embroider, Arctic, Weave | Wallcovering |
Market: Hospitality, Public Spaces
"It's a challenge to find a product that solves multiple goals at once. The Xorel, TPO, and durable woven textiles achieved this in terms of design, texture, and light—the performance, sustainability, and cleanability aspects were the icing on the cake." - Nathaniel R. Orr, AIA, NCARB Project Architect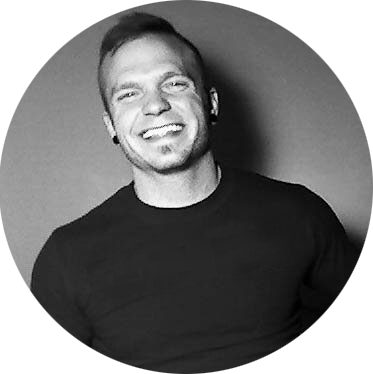 Design Challenge
When tapped as the lead architect for Minute Suites across the United States, Sonder Architects wanted to find wallcovering solutions that met a number of the company's business goals including strict cleanability, ease of maintenance, hospitable aesthetics, and sustainability.
Design Solution
As Minute Suites are high-traffic spaces that offer travelers a place to nap, relax or work before their flight, Carnegie's durable product portfolio was the perfect solution. Carnegie's Xorel and TPO wallcoverings, as well as durable wovens were an ideal fit for the business' private and public areas.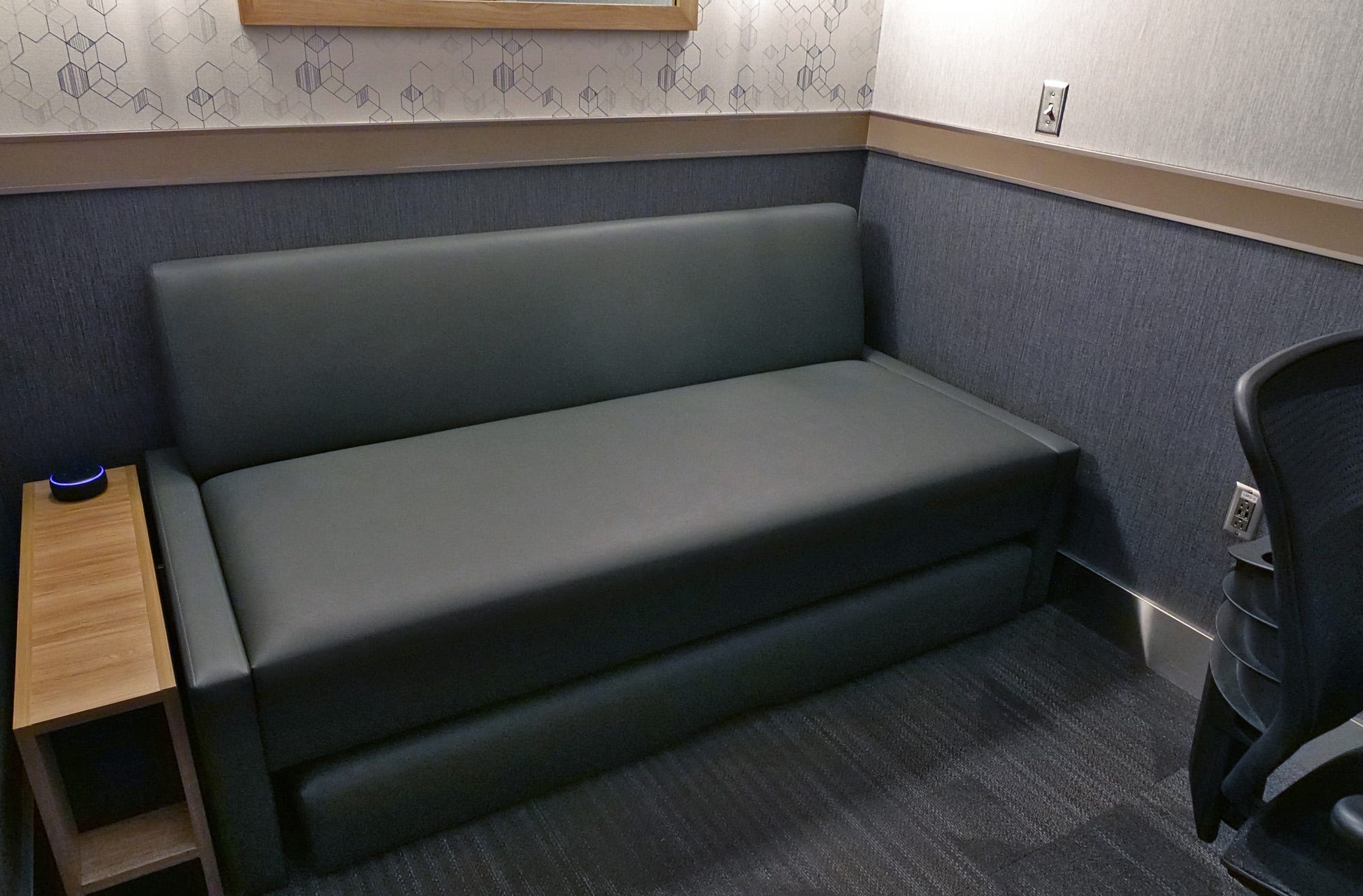 Clean and Serene
Founded by doctors and healthcare professionals, Minute Suites is a company that provides airport travelers with a clean and safe respite between long layovers. With nine current locations across the United States, these private airport suites can be reserved by the hour, and offer a retreat within terminals to nap, relax, and work.
When Sonder Architects partnered with Minute Suites in 2016, their goal was to refresh the spaces with finishes that were aesthetically soothing, but could also be aggressively cleaned and easily maintained. With the motto and promise of "Clean and Serene," all Minute Suite spaces are thoroughly sanitized between guests with hospital-grade disinfectants. Project Architect at Sonder Architects, Nathaniel Orr, AIA, was immediately attracted to Carnegie's Xorel as a wallcovering finish for the suites due to its performance story. "It had all the texture we were looking for and could also be cleaned with bleach," Orr says. The strength of the Xorel yarn and proprietary X-Protect Wall backing system also meant that in addition to cleaning and disinfection, the product would look new for years to come.
For the check-in area of the Nashville International Airport Minute Suite, Orr selected a durable woven wallcovering called Arctic, which added a welcoming, soft and subtle linen-like texture to the wall while still promising intense durability. Within the suite, Orr specified the Xorel Deco Embroider pattern for a feature wall, as he wanted to add "visual interest without being too overwhelming," he says. "The suites are quite compact, so the lightness of the wallcovering—as well as the hint of shimmer—makes suites feel much larger than other suites where a darker, more flat wallcovering was used throughout." Below the chair-rail, Orr selected a Carnegie TPO wallcovering in a darker tone to help hide stains and scuff marks from suitcases.
Meeting Airport Sustainability Goals
Sustainability was another key goal shared by Minute Suites, Sonder Architects, and the airports themselves. In addition to beauty and performance, all three of these wallcovering selections are 100 percent PVC-free. In fact, Xorel is the first and only biobased textile and wallcovering on the market that achieved Cradle to Cradle Gold and Living Product Challenge certifications.
Orr shared, "Sustainability was a big factor in our selection process. Wallcovering is one of the largest surface areas of the space, so choosing these products allowed us to meet the airport sustainability goals."
End Result
Minute Suites continue to expand to new locations in airports across the country. As the travel industry begins to pick up post-pandemic, these rest areas will become a much-needed haven for those who are making long-haul trips for business or pleasure. Selecting Carnegie's Xorel, TPO, and durable woven textiles ensure these high-traffic spaces will adhere to the highest of sanitization standards.
"It's a challenge to find a product that solves multiple goals at once," says Orr. "The Xorel, TPO, and durable woven textiles achieved this in terms of design, texture, and light—the performance, sustainability, and cleanability aspects were the icing on the cake."